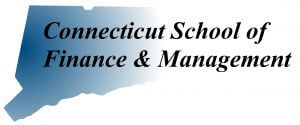 CSFM is the Connecticut Bankers Association premiere banking education and management program that has graduated over 2,900 students since its inception in 1962. It is a proven management development staple within many CT banks and a critical tool in shaping future leadership teams.  This two-year program, instructed at the undergraduate level, has a curriculum designed to provide an opportunity for junior bank management personnel to obtain a more comprehensive knowledge and understanding of the financial services industry.  Class work includes banking theory, practices and procedures, capital markets and management functions, all of which will be of substantial value in the student's preparation for new and greater responsibilities at the management level.
Specifically, the first year provides students with a broad perspective on banking and its relationship with the economic process. Through a comprehensive introduction to money and capital markets, courses will expose the students to the Federal Reserve System, asset/liability management, investment portfolio management, the mortgage arena and commercial and consumer lending.  A written research assignment designed to furnish a challenge in research, objective study, and report writing will be required of the first-year students.  The second-year curriculum is more diversified as it examines specific management functions within the banking industry. The second year opens and closes with overnight, 3-day resident sessions. The first of those sessions challenges a student's perceptions of the skills necessary for leadership. The final resident session summarizes the two-year program through the interaction associated with a bank simulation program (BankSim).
The program is designed to increase the knowledge of the students in their own specialties and, at the same time, introduce them to a wide range of banking topics. Upon completion, students will have developed a broader perspective of the industry, a more enlightened view of their own bank and most importantly, a greater awareness of their individual capacities.