2023 CBA Women in Banking
Friday, April 28, 2023
8:15 a.m. - 2:30 p.m.
Mystic Marriott Hotel & Spa, Groton, CT
** Thank you to our 2023 Women in Banking Sponsors **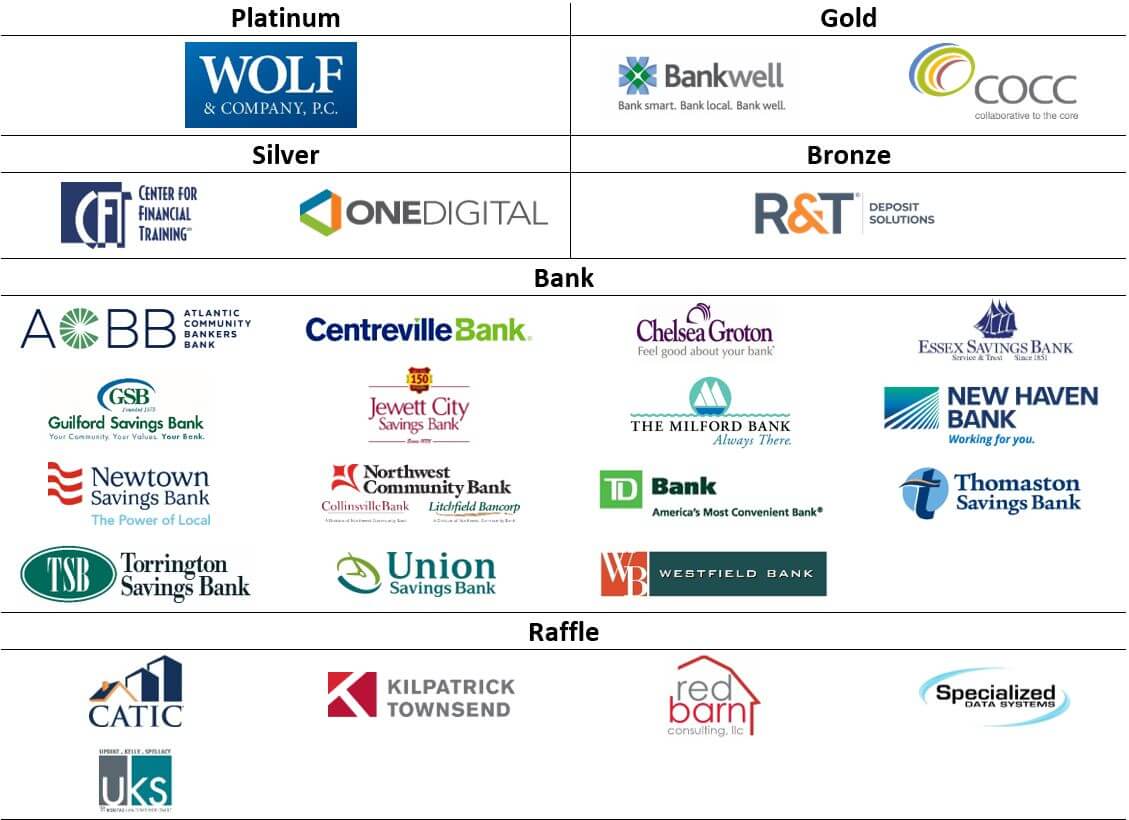 An exciting networking reception, the evening before on Thursday, Apil 27 at 6:00 p.m. Network with the event speakers and your banking peers. Enjoy cocktails, hors-d'oeuvres and great company!
Program Agenda - Friday, April 28, 2023
Registration & Buffet Breakfast
Welcome
Cindy Merkle, President & CEO, Union Savings Bank and Past CBA Chair
Carol Capone and Kelley Chartier, Wolf & Company
CT CEO Panel
Diane Arnold, President & CEO, Essex Savings Bank
Maureen Frank, President & CEO, New Haven Bank
Lisa Griffin, President & CEO, Eastern Savings Bank
Cindy Merkle, President & CEO, Union Savings Bank
Sue Shields, President & CEO, Milford Bank
Lesa Vanotti, President & CEO, Torrington Savings Bank
Transforming Commitment to Achievement: Diversity, Equity, Inclusion, and Accessibility in Banking - Nikita Pearson, Deputy to the Chairman for External Affairs, and Zunera Mazhar, Deputy Director of National Financial Institution Diversity Strategy, Office of Minority and Women Inclusion, Federal Deposit Insurance Corporation
We all have a role to play in fostering a safer, fairer, and more inclusive workplace and banking system.  Join Nikita Pearson, Deputy to the Chairman for External Affairs, and Zunera Mazhar, Deputy Director for National Financial Institution Diversity Strategy, for an interactive discussion on how the Federal Deposit Insurance Corporation (FDIC) is working toward meaningful progress and how you can help your bank do the same.  Learn about the FDIC's Financial Institution Diversity Program and lessons learned from assessing the diversity policies and practices of FDIC-regulated financial institutions.  Engage with leaders in the diversity, equity, inclusion, and accessibility space who are committed to helping financial institutions enhance business strategies to produce positive business outcomes and build better communities.
Build a Momentum Mindset: How To Be More Adaptable, Resilient and Ready for What's Next in a Rapidly Changing World - Kim Becking, Keynote Speaker
Change, uncertainty, and disruption are guaranteed – especially now - but growth and progress are not. How you deal with this ever-changing uncertain stressful world is completely up to you. You have a choice.  You can stay stuck or develop a Momentum Mindset® so that you can become more adaptable, resilient, and ready for what's next.
Kim shares her own stories of adaptability and resilience in life and business with healthy doses of vulnerability, humor, and motivation and will share how to use resilience to not only navigate and cope during change and uncertainty but build a Momentum Mindset where you develop the adaptability and resilience muscles needed to push past limited thinking and use challenges, change and uncertainty as the fuel needed to propel you forward – stronger and better.
Leave this program equipped with the tools you need to transform your mindset to think differently, conquer change and challenges, reduce stress and overwhelm and create the everyday resilience required in this rapidly changing world to cultivate an adaptable and resilient mindset for you and those you lead no matter what.
The Mystic Marriott is now accepting hotel reservations for the Women in Banking Conference. Through this website you can book, modify or cancel your hotel reservation.  Please click here to make your hotel reservations online. 
Reservations can be made at the discounted rate until Friday, March 31, 2023. After that date, the discounted rate will no longer be available.  Please note that room availability is limited and rooms may sell out before the reservation deadline.